Beachcomber Day Cruise,  Mud Pool & Famous Cloud 9
in Two Days just for F$299.00 per person
Sabeto Valley Mud Pool and Thermal Spring
The Sabeto hot water springs are one of Fiji's hidden jewels. It provides a rare opportunity to indulge in a therapeutic natural spa, also known as the Sabeto mud baths. ! Located halfway between the major cities of Nadi and Lautoka on the main island of Viti Levu, the Fijian mud baths are a must-do holiday experience. The therapeutic mud pool of Sabeto is the ideal remedy for self-cleansing or naturally beautifying yourself. The sulphur in the hot springs is believed by locals to have healing properties and is a popular spot for both visitors and locals, providing a great social experience.
The Sabeto Hot Springs has three pools set in lush natural surroundings, have fun applying rejuvenating mud generously on yourself and your friends! Immerse yourself in the warm spring pool and discover authentic Fijian warmth.
A naturally occurring phenomena, the warmth of the geothermal springs comes from a volcanic source with the unmistakable odour of sulphur which is thought to convey therapeutic properties. The site is popular with locals and visitors alike and a chance for some, err, good clean fun! Administered by a local village for a nominal fee of FJ$15 for upkeep, this charmingly rustic attraction consists of three thermal springs of varying temperatures set amid the lush verdant Sabeto Valley. You'll receive a guided tour of the area before you get to immerse yourself in warm mud.
The mud bath spa ritual goes like this: don your swimwear and enter the thick, muddy pool first and relax. Hop out and cake yourself in mud and allow it to dry in the sun before hopping back into the muddy bath and then over to the clear spring to clean up. The pool temperatures vary from quite hot (60 degrees Celsius) to warm. The social experience of getting dirty with locals and other travellers is quite levelling.
If you have never been covered in mud from head to toe, it's an experience! They claim to have age-defying benefits and healing notions but overall, it just feels ….. Interesting.
Beachcomber Island Day Cruise
Experience the magic of Beachcomber Island just once and you'll want to come back year after glorious year; it does that to people. Come and join us on this "dream island" and share memories that will stay with you forever.
Situated on a picturesque marine sanctuary in the heart of the Mamanuca Islands, Beachcomber Island Resort is just 19km from Nadi International, Fiji's National airport. It's an island that's easy to get to yet so very hard to leave! Things to do in Fiji
Features & Highlights
Buffet lunch, morning & afternoon tea included
Watersports (optional extra)
Coral viewing & fish feeding in glass bottom boat
Snorkelling gear
Putt Putt Golf (fee additional)
Marine Sanctuary
FREE  & Nadi / Denarau hotel coach transfers-
 CLOUD 9
This floating paradise is located literally in the middle of the ocean surrounded by nothing but turquoise blue water, coral reef and the horizon!
Cloud 9 is close to the main island of Fiji, Viti Levu and is in the Western Division, closest town being Nadi. It is amongst the waters of Vanua Malolo on Ro Ro Reef. It is only 40-45min boat ride from Port Denarau, a major tourist hub for all transfers, and only a 10 min speed boat ride from Musket Cove Resort, Lomani Resort & Plantation Resort.
Cloud 9 is privileged to be a part of the beautiful Fiji waters and opens its doors (no landing fees required) to everyone that wants to come on board and enjoy this incredible ambience! An experience like no other!
WHAT DOES CLOUD 9 HAVE TO OFFER?
Food and beverages:
On board Cloud 9 we have a fully stocked bar with International top shelf drinks as well as the local favourites of Fiji Gold, Fiji Bitter and Fiji Rum Co! We also have delicious cocktails, smoothies and bottled water for purchase.
Our menu has changed from before! We now have Italian Wood Fire Pizzas on board catering for non-vegetarian, vegetarian and gluten-free guests. These scrumptious pizzas are hand made and cooked within minutes for your convenience.
Water sports:
Coming soon! However, if you are travelling in a group and would like to pre book exciting activities then we have partner companies that can have water sports available for you on the day.
Music:
During the weekends we have a cutting edge music policy with both international and local DJs playing on board with signature sounds.
During the week days we have a custom made play list created for the enjoyment of our guests. However, If there is a big group of you and you request to have a DJ on board during the week, we will definitely facilitate this.
Cloud 9 aims to bring the best music to the islands!
Amenities:
Cloud 9 offers reclining day beds, confortable hanging chairs, tables, chairs and benches.
Cloud 9 accepts and prefers all International and Local Credit Cards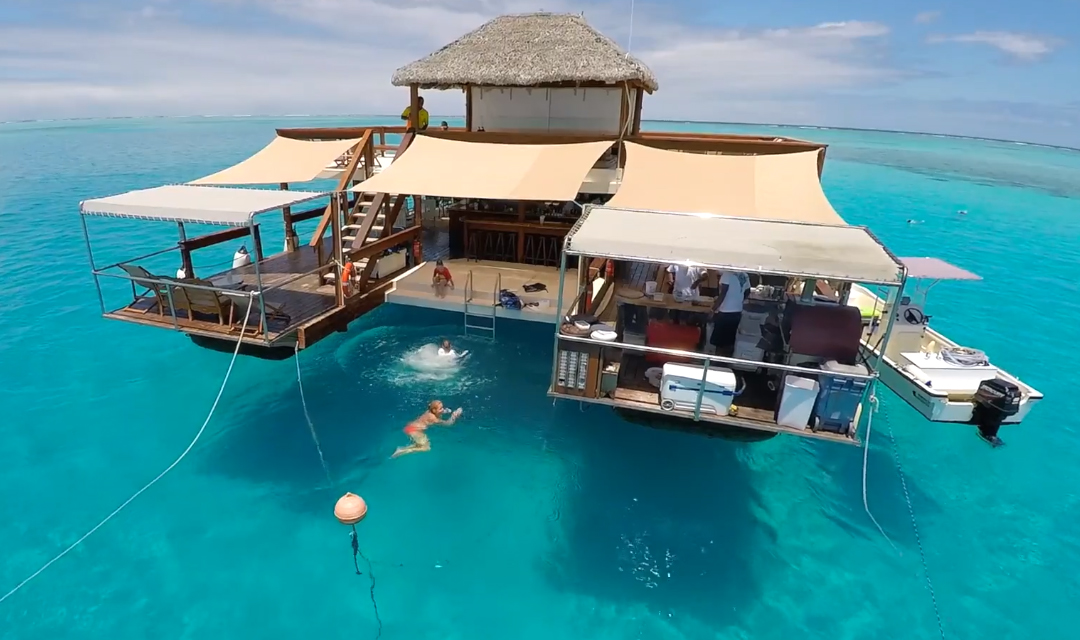 Tour Itinerary
Day 1
Depart your Hotel at 8.00 am and arrive Mud Pool at 9.00a.m You will have 2 Hours to experience the mud pool and depart to connect your 12.00 pm boat to the the famous beachcomber Island.
Your trip to Beachcomber includes Buffet lunch, morning & afternoon tea included, Coral viewing & fish feeding in glass bottom boat, Snorkeling gear and Waters ports (optional extra).
You depart Beachcomber at 4.00 pm and arrive Nadi at 5.00pm and you will be dropped off at your respective Hotel.
Day 2
Depart your Hotel at 8.00 am and arrive Port Denarau  to connect your boat to the famous cloud 9
Your depart from Port Denarau after your day at Cloud 9 and our driver will drop you off to your respective resort.
Pricing – From April 2016
 

to March 2017- Prices in Fiji Dollars
| | | |
| --- | --- | --- |
| Options | Adult | Child |
| One Day – Half Day Beachcomber & Mud Pool in One Day | $299 | $185 |
Can we do from Coral Coast Resort- Yes you can for the above package in two days….Additional cost per adults and children.
Resorts
Adult
Child
Intercontinental Resort & Spa Natadola Beach Resort &  Shangri-La's Fijan Resort & Spaor Vice Versa
 $    99.00
 $    59.00
Outrigger on the Lagoon Resort, Bedarra Inn, Tambua Sands Resort, Hideaway Resort

Mango Bay Resort, The Naviti Resort, The Warwick Resort & Spa, The Beachouse

 $  159.00

$  199.00

 $    89.00

$  129.00